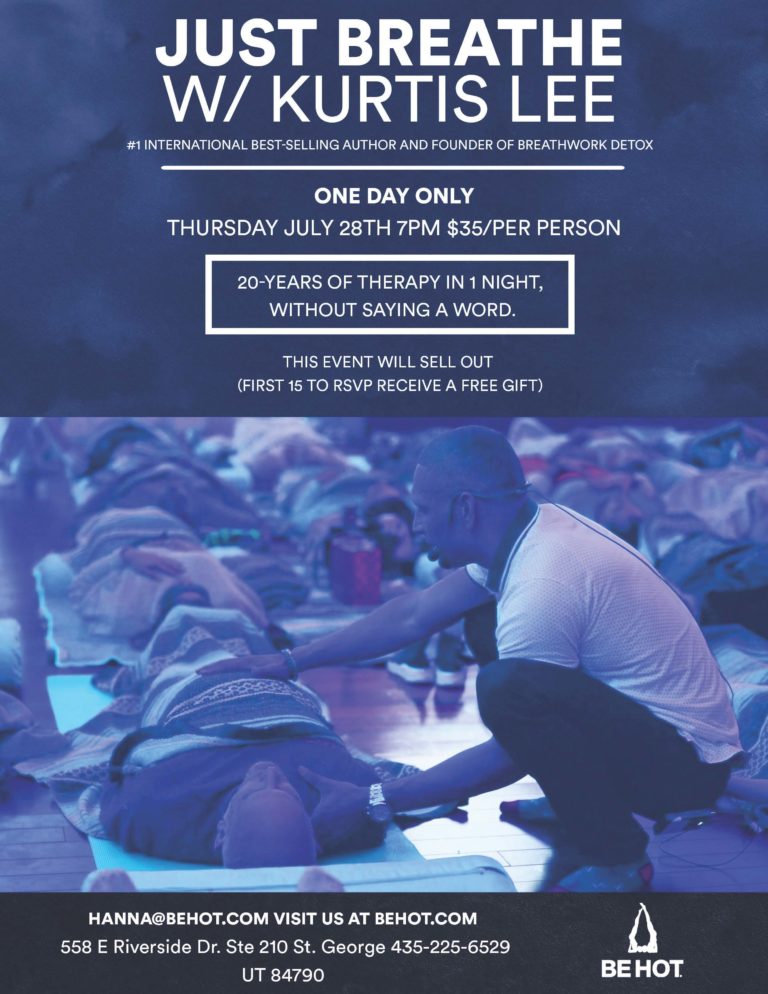 Just Breathe!
Kurtis Lee
Thursday July 28th 
 7pm
$35/per person
@ Be Hot on Riverside 
435-225-6529
Founder of Breathwork Detox Comes to St. George for 1-evening
20-years of therapy in 1 night, without saying a word.
1-Night of Magic with the Founder of Breathwork Detox and #1 International Best-Selling Author
Breathwork is like 20 years of therapy in 1 session without saying a word. The results of Breathwork Detox are IMMEDIATE and UNDENIABLE, from just ONE session".
Your Facilitator: Kurtis Lee Thomas is the founder of Breathwork Detox and the Just Breathe Foundation. He works with the world's most influential celebrities and brands from Nike to Nasa and is the #1 International Best-selling author of THE WORLD IS YOURS-The Secrets Behind "The Secret", as well as the #1 new release, HOW TO THRIVE IN THE AGE OF ANXIETY.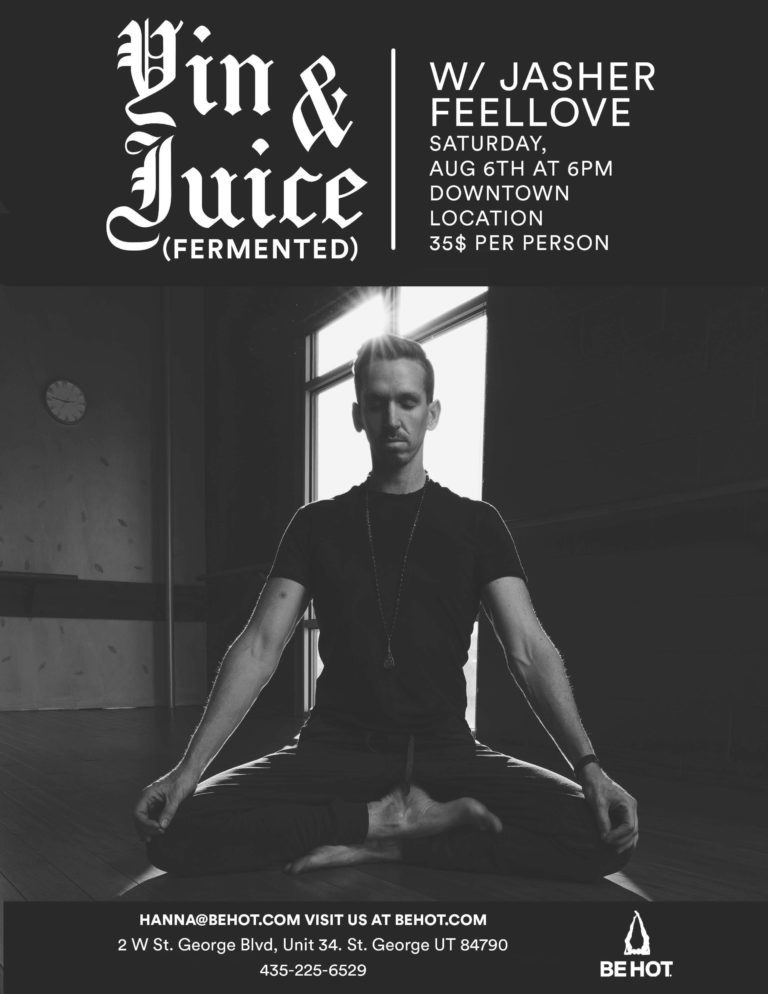 Yin & Juice w/ Jasher Feellove
$35/ Per Person
REGISTER
Wine Included
Saturday August 6th
6pm – 7:15pm
@ Be Hot Downtown
2 W. St George Blvd #34, 84770
435-225-6529
Your muscles, ligaments, tendons and organs will joyously thank you. Get your appetite ready for healing, and for wine. You are welcome and encouraged to bring the wine of your choice to be enjoyed at the event. Hope to see you there.
*Wine is included for those over 21
Buti Bands + Sculpt Certification
w/ Emily Gonzalez
Nov. 5-6 Saturday/Sunday
8am – 8am each day
$725
@ Be Hot on Riverside
or email
This 2-day certification includes BUTI BANDS + BUTI SCULPT unless otherwise noted. This training offers instructors an "add-on" class to boost their Buti Yoga marketability. Each class sequence (Buti® Bands / Buti Sculpt®) fits into a 30 minute class slot offering students convenient fat burning workouts that maximize functional core strength and prevent injury. These class styles are ideal to attract students otherwise intimidated by traditional Buti classes or build-onto your class offerings with HIIT and resistance training to enhance overall market reach. Training will include: manual, instruction, anatomy + physiology, injury prevention / at-home protocols, modification, class sequencing and testing
BUTI® BANDS is a HIIT-based resistance training workout targeted to LIFT + SHAPE your BOOTY while toning + strengthening the hips. Bands are utilized during high-intensity intervals to challenge the body through all planes of motion while targeting the hips and booty through lateral engagement. During low-intensity intervals, students move through static yoga poses to release the muscle group targeted during the high-intensity interval.
Buti Sculpt ®+ Buti ® Bands: $725 Training includes manuals and all content, Bands are not provided (Please BYOBands)