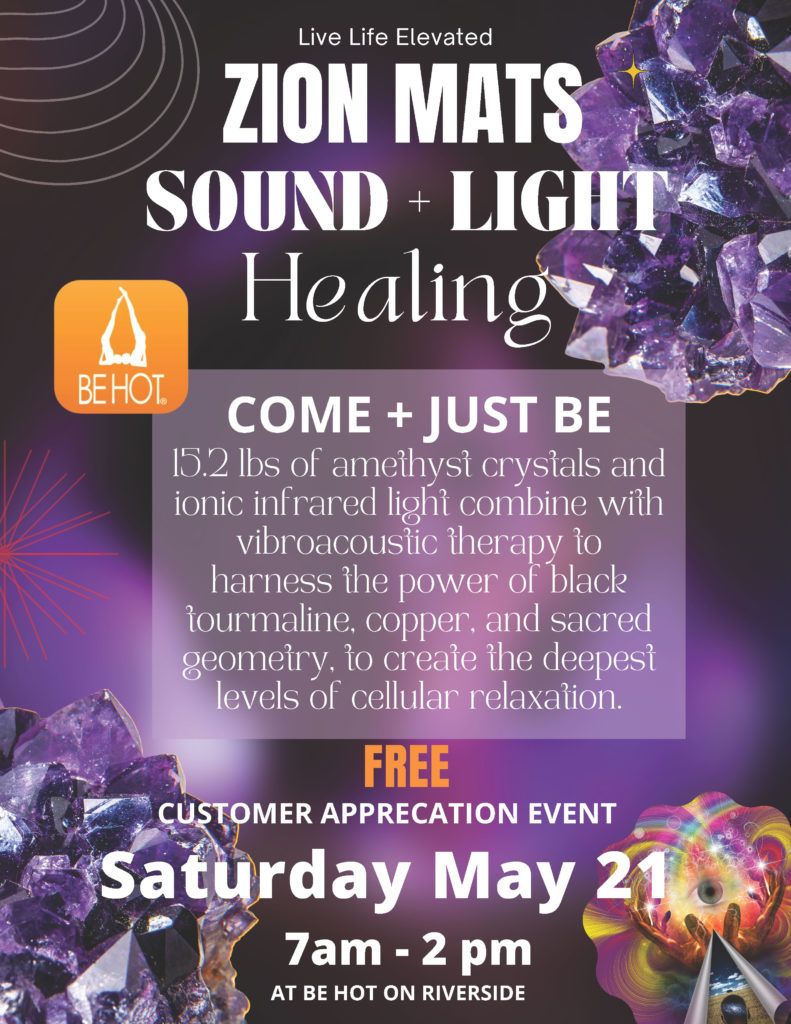 Sound and Light Healing
with Zion Mats
@ Be Hot on Riverside
Saturday May 21st
7am – 2pm
Open to the Community
Free Customer Appreciation Demos
First come First Serve
435-225-6529
558 E Riverside Dr #210, 84790
Say goodbye to a distracted mind. The inHarmony Sound Lounge + Amethyst Crystal Biomat instantly soothes and relaxes your busy mind and allows your entire body to recover on a cellular level using healing frequencies in a cocoon of far-infrared light and vibroacoustics. The inHarmony Sound Lounge has four tactile transducers, two amplifiers, Sennheiser HD noise reduction headphones, and concert quality cables are used to deliver powerful sound to your ears, making you feel amazing, while the Richway Biomat harnesses the power of 15.2 pounds of certified amethyst crystals along with 17 layers of biotechnology which include a copper and tourmaline layer to allow you to chill out, recover and transform your health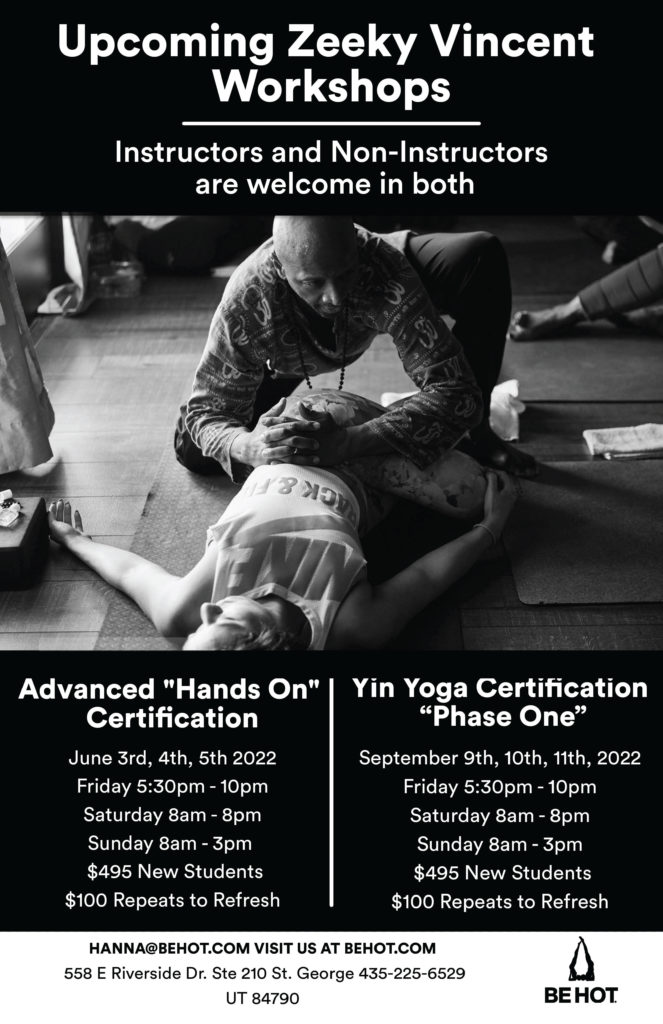 Advance "Hands On" Certification
Zeeky Vincent
 @ Be Hot On Riverside
June 3rd, 4th, 5th 2022
Friday 5:30pm – 10pm
Saturday 8am – 8pm
Sunday 8am – 3pm 
Instructors and non-instructors are welcome!
 $495 New Students
$195 Repeats to Refresh
558 E Riverside Dr. #210
435-225-6529
***Notation- ADVANCE "Hands On"
Prerequisite- Having previous "Hands On" experience from any venue, workshop, or Training is a plus. NOT NECESSARY!!!
SYNOPSIS.
Gain full access to the art of elevating your students and yourself in this 27 hour application of Advance Hands On Adjustments. The program includes both contact and non-contact hours and is an accredited program supported by the YACEP.
The Highlights
*Learn deeper levels of Assisting postures | *Styles of Assists | *Hand/Foot placement | *Energetic Lines within alignment | The importance of confidence and how to find your "Seat" as an Assist 
This is a Certifiable Training! It's interactive and direct hands on. If you're ready to elevate your teaching, OR your practice, this training is for you!
Instructors and non-instructors are welcome!
This weekend training will qualify for 27 hours of Continued Education credits with Yoga Alliance.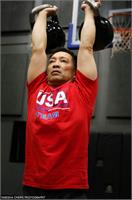 Kettlebell Certification
w/ Moses Dungca
June 18th & 19th | Sat. & Sun.
Saturday 1:30pm-5:30pm / Sunday 1:30pm – 5:30pm
Be Hot Downtown
2 W. St George Blvd #34
435-225-6529
$600 Early Bird by 5/31/2022
$700 Full Tuition after 5/31/2022
Moses Dungca is the presenter and he is a professional competition kettlebell trainer and owns his own kettlebell training facility in Las Vegas, Nevada
Called Kettlebell Sanctuary
He is married to Quinn Callahan owner of The Rock center for dance also in Las Vegas Nevada and together they train professional athletes, dancers and youth in kettlebells and the arts.
What a kettlebell practice can bring is serious cardio, functional strength, flexibility, mobility, and a fun and varied routine to help you stay fit. We will teach you form, technique, breath, and how to maintain a consistent practice. Take a step into a whole new world of fitness, health, and wellness. The benefits are endless when you combine kettlebells with your fitness routine whether it be yoga, pilates, running, climbing, or whatever you enjoy doing to help keep your body moving and thriving. Kettlebells are safe for any shape or size. Embrace and enhance your body awareness, mental focus, stamina, stability, and uniqueness.
Yin Yoga Certification "Phase One"
Zeeky Vincent 
@ Be Hot On Riverside
September 9th, 10th, 11th, 2022
Friday 5:30pm – 10pm
Saturday 8am – 8pm
Sunday 8am – 3pm
 $495 New Students
$195 Repeats to Refresh
558 E Riverside Dr. #210
435-225-6529
SYNOPSIS
Steeped in the original Hatha Yoga tradition, Yin Yoga offers up passive
stretches- stresses of the connective tissues, joint mobilization, improved
energy into the vital organs, introspection, and more.
The Highlights
*Gain understanding & the instruction to the practice of Yin Yoga
*Overview of Meridians, Chakra Correlation, Pranas
*Yin Posture Sequencing / Proper Adjustments / Prop Support
*Education on Postural Benefits / Injury Prevention
*Timing (Less vs More)
*The relationship of Yin & Yang
*Art of Theming the Practice
Program Conclusion
• Structuring a Yin Yoga Class
• Effective Teaching Instructions to the multi-level room
(when to modify, deepen, or skip the pose)
• Yin Drill
• Certification for Phase One of two phases
"To go deeper in Yin Yoga means to hold longer-NOT necessarily to move further!"